Ricette
Vegan soya-based mayonnaise salad with potatoes, carrots and peas
17/12/2017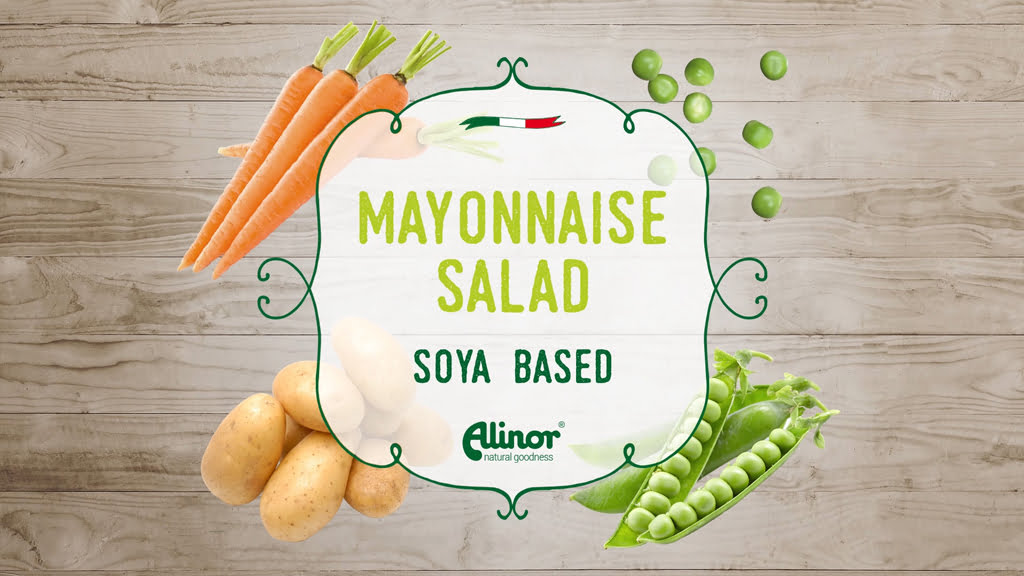 INGREDIENTS
Mayonnaise ingredients:
Sunflower seed oil: 100 ml
Non-sweetened soya drink: 50 ml
Fine salt: a pinch
Lemon juice: 20 ml
Turmeric (optional): half a teaspoon
______
Potato salad recipe:
Carrots: 200 g
Peas: 300 g
potatoes: 500 g
Black pepper to taste
Extra virgin olive oil: 30 g
apple vinegar: 10 g
PORTIONS:
4 people
PREPARATION TIME:
30 minutes
DIFFICULTY:
easy

Vegan mayonnaise preparation: pour the unsweetened organic soya drink, the sunflower seed oil, a pinch of salt and a teaspoon of lemon into a tall glass. Using a blender, mix the ingredients at medium speed, slowly moving the blender up and down, ensuring that ingredients are mixed uniformly. The mayonnaise will be ready in a few seconds. Pour the mayonnaise onto a bowl.
Vegetable preparation:
Wash the vegetables using plenty of fresh running water and peel them with a peeler. Cut the potatoes first into slices and then into 0.5 cm cubes. Cut the carrots also into 0.5 cm cubes and then shell the peas. Steam the vegetables in a suitable container: first the potatoes for 7-10 minutes, then the carrots for 5-7 minutes and finally the peas for 10 minutes. When the vegetables are ready, let them cool and set aside.
When they are warm, put them in a big bowl and add salt and pepper. Pour oil and vinegar and let cool completely.
Final preparation
Once the vegetables cool, add the prepared mayonnaise and mix all the ingredients well with a spoon. Serve the potato salad in small bowls. Return to the fridge for at least an hour to enhance flavour and for cooling. After an hour, it is ready to serve!
Tips
For the vegan mayonnaise:
Only use non-sweetened soya drink with no additives (calcium, etc.) or flavouring.
Do not overdo the turmeric. A pinch is enough to add some colour to the mayonnaise.
For the potato salad:
Cut the vegetables into cubes as homogeneously as possible.
The vegetables should be crispy: make sure they do not overcook
Alternative
When preparing the mayonnaise, you can use apple vinegar rather than lemon juice.